A"hidden gem" is one of the most overused descriptors of neighborhoods, communities, and boutique retail centers around. So I feel like I'm breaking my own rules here by referring to the Wesbrook Village of UBC as such, but there is no more apt definiton for it than that. The other day I walked around this community after meeting with happy new homeowners with the goal of sparking the next idea for this UBC real estate blog. Would I write about a great local eatery? Perhaps I could consume an entire post talking about the efficient transit system serving our residents? But what I noticed on my walkabout was that the one thing that converts prospective homeowners into Wesbrook Village residents far better than any smooth talking Realtor is the neighborhood itself. All you need is to take a leisurely stroll through the village and you're sold on the concept of joining the community. So I took out my mobile device and simply snapped a few pictures and decided that I'd let the images do the talking for me, with a little commentary here and there for good measure.
A PICTORIAL TRIBUTE TO WHAT MAKES WESBROOK VILLAGE SO GREAT
GREENSPACE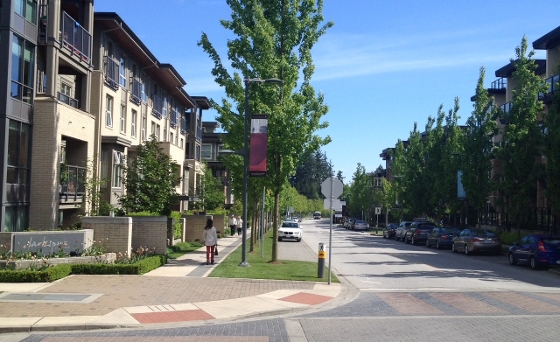 The greenspace in the community is one of the biggest draws for those households that place living within a natural environment as high on their quality of life index. It's no secret that the surrounding UBC area is renowned for its protection of the greenspace it thrives in and so all new developments continue with the mandate. Wesbrook was designed to complement and accentuate this fact. One step outside of your condo and you are face to face with the Pacific Northwest at its best.
COMMUNITY
A sense of community is extremely evident in Wesbrook Village. The University Neighborhood Association and Wesbrook Welcome Centre ensure that no matter where in the world (literally) you are arriving from that you are welcomed into the community with wide-opened arms.
EDUCATION
Education of course is a big draw for any family household considering Wesbrook. While UBC is our educational facility staple, prospective homeowners with families are happy to learn that one of the best secondary schools in the Lower Mainland, University Hill, is found right around the corner of Wesbrook as well.
DINING & RETAIL

Dining and other retail is a fast growing feature in Wesbrook Village. The tastes of the neighborhood are evident in our commercial portion of the community. There are great sushi and Thai spots, a Blenz coffee shop, a Menchie's Frozen Yogurt, and more. There are retailers accommodating everything from fitness enthusiasts to pets and we expect the arrival of boutique shops to grow well into the future.
HOUSEHOLD SHOPPING

Of course you'll need to ensure your "at-home" needs are met when it comes to cheffing it up. Wesbrook Village has convenient stops for fresh local seafood and a major grocery chain to ensure competitive prices and a wide selection. Your household wants for nothing in this community.
COMING SOON

Every month is seems as if a new business prepares for its arrival to satisfy the demands (and tastes!) of our current and prospective residents of Wesbrook Village. We're very excited to welcome BierCraft and Doughgirls this summer and eagerly anticipate who's coming next.
GETTING AROUND

Getting around to, from, and within Wesbrook a Village is a breeze. A clean and efficient transit system takes residents to the University grounds, the surrounding neighborhoods, and connects them to the entire Greater Vancouver area with convenience and ease. Granted, the super fit nature of our community also has residents taking to other means of "getting around". The local bike shop is steps away from the front doors of our homes should you need accessories, air, or a new set of wheels. Wesbrook Village and the surrounding area also serves as one of the best walking and jogging zones in the entire Lower Mainland, made noticeable by the always bustling scene in our local Running Room shop.
THE PERFECT LOCATION

No matter the direction you find your new home in you are in the perfect spot for you and your entire household when living in Wesbrook Village.
Convinced that this "hidden gem" (sorry, had to slip it in again) community is for you? I welcome you to view homes for sale in Wesbrook Village and follow-up by contacting my UBC real estate office at your earliest convenience.